It's a farmers market Daily! Locally grown fruits and vegetables.
Our goal is to empower your family to eat healthy and to enjoy natures best, locally grown produce. Throughout the summer, our rich Ohio soil allows you to enjoy a farmers market 7 days a week, featuring the freshest fruits and vegetable for your dinner or anytime table. We offer seasonal produce directly from the farmer, in most cases us :)

Our summer produce includes all the foods you love, including Toledo's best homegrown corn on the cob. There is a difference between vegetables found in grocery stores verses our fresh from the farm produce. And, if we don't grow it ourselves, we receive select fruits, like apples and peaches from quality farm fresh growers.

Our home grown favorites also include zucchini, green peppers, red peppers, a variety of hot peppers including jalapeño peppers, cucumbers, green beans, yellow squash, candy onions, fresh cabbage, red beets, green beans, red potatoes, all kinds of tomatoes and so much more.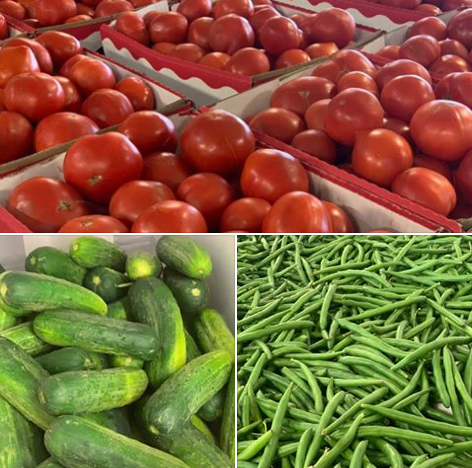 Juicy fresh summer fruits
Our summer produce favorites change daily so make sure you stop by and see what tempting, sweet and juicy treat we have for you during season.
Depending upon the year and crop, we have all the summer fruits you crave; watermelon, cantaloupe, peaches, plums, sweet bing cherries, nectarines, apples (later in season) and blueberries
You can browse our fresh fruits and vegetable produce any day of the week during season, usually early July through the end of October.
Check our hours for details.